Will Your Phone Work At The Frio River?
Be sure to read and heed my recommendation at the bottom of this post. It's insurance you can use!
You may have heard all kinds of things about Frio River phone signal at Garner State Park and various places at the Frio River. Well, we did the research and found what actually works and where. Some people may be able to go without the mobile phone while on vacation, but even if you can, why would you?
We are big fans of safety here at Frio River Camping, and we believe that having a reliable form of communication in an emergency situation is paramount. Besides, who has time to be inconvenienced while trying to enjoy themselves? Read on below for our Frio River phone signal guide.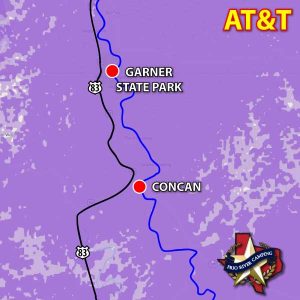 Number 1 on our list is the one you've probably heard the most about, and that's AT&T. AT&T has a vast network that pretty much covers the Frio River canyon area in reliable 3G and 4G service.
This map thumbnail shows 3G and 4G coverage from well beyond Concan up to Garner State Park.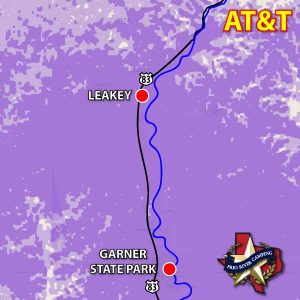 So, why did AT&T appear on this guide twice? Because it's coverage is just so expansive in the Frio River canyon, it had to be broken into two graphics to fit here!
Continuing on, we can see that the area from Garner State Park on up to Leakey is drenched in service. Highway 83 and the river both are well within the service area, as seen here.
This next one may not come as a surprise, but T- Mobile comes in a close 2nd as far as 3G and 4G cell service are concerned.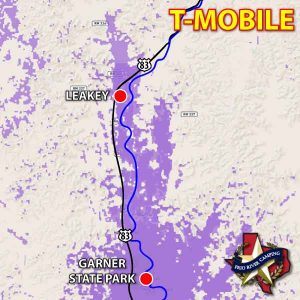 Even though it's not as expansive as AT&T, you'll still feel pretty confident in and around Leakey with T-Mobile. But, much like the next provider on the list, the farther north you move, the more you'll have to move to get service.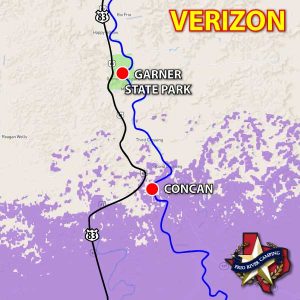 This one may come as a surprise, good or bad and may make one wonder why they decided to stop at Concan. But, Verizon, as seen here, works in some places at the river, but it looks like only in 3G.
Verizon just isn't quite there, but if you are staying south of Concan, you may be in luck – even if you have to go outside and stand on one leg. One leg on a rock with one arm up in the air to catch reception. It may also help to wrap some aluminum foil around your right elbow – so I've heard.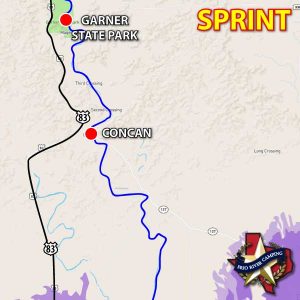 Finally, if you have Sprint, you're going to have service, technically, if you drive half an hour south of Concan on highways 83 or 127. Sprint just barely made it on this list, but only because it's doable with some extra effort. 
Frio River Phone Signal Recap
To sum it all up, here are the major carriers to have when deciding where to stay on the Frio River.
AT&T
T-Mobile
Verizon
Sprint (with some driving)
For carriers 2 and 3, it may be realistic to find a nice cell phone signal booster to mount somewhere on your RV or in your camp – like these below.
Alternatively, the route that makes most sense for me, would be to purchase a prepaid phone on AT&T or T-Mobile.
For under $90 the Zte Spark is my preferred throw-down phone. Even though I've never had to destroy one on a camping trip, I'd be more upset about losing the pictures from the day than losing this thing. This is insurance you can use!
I got this idea from the time I worked out of state in a remote location and it worked like a charm. If under contract, most carriers will allow you to pause your post-paid account for a short time, but only with good reason.
Another option, if you can live without a constant data connection, is to use your smart device in offline mode. At least this way, you can download songs, screenshots and documents about the area that you've saved ahead of time! You can also use it for a camera and lose it in the river. NO THANKS! I'll go with the temporary prepaid phone. I'd have to lose 13 of these to equal the value of my primary phone.
Planning ahead when it comes to communication and having a way to get your bearings is going to be of utmost importance.
Don't forget to give this subject some serious thought. If not, the surprise of having no cell reception when you roll into the Frio River canyon could be a major let down that could destroy an otherwise awesome trip! Enjoy.