Located just one block away from Comache Crossing, Villa Muniz is a delightful vacation house that can be your home base for a fun Frio experience!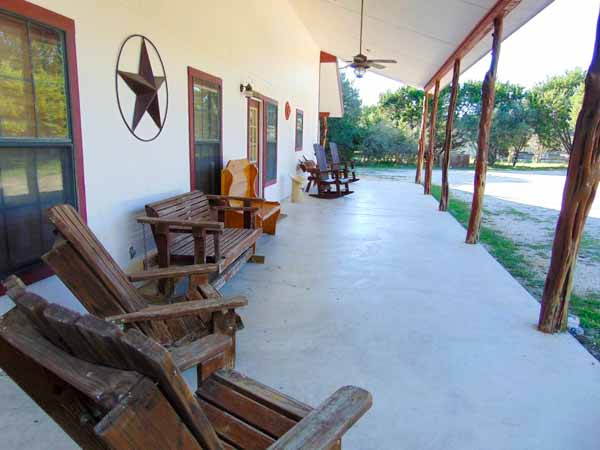 VIlla Muniz is spacious vacation home with vaulted ceilings, large living room and multiple seating areas for lounging. It has an open and spacious floor plan, and on the second floor you will find a huge bunk room.

This property can accommodate up to 24 people, and is great for families, friends and large groups. With its pleasant rustic tones and comfortable amenities, it's the perfect place to relax and enjoy your Concan vacation.
"… Drive up to the property and you will immediately notice this large home set back from the roadway, surrounded by charming mature oak, cedar and birch, with its soaring 25 foot ceiling and large front porch with plenty of seating…"
Space And Comfort
Outside there is a large lounge area around the fire pit, perfect for great conversations while enjoying the peaceful atmosphere and scenic vistas. There is also more than enough room for play and outdoor activities, with a volleyball court, basketball hoop and horseshoe pit inside the property.

Your Concan experience will not be complete without a trip to the pristine Frio River itself, which is just a short distance from the house. That means the fun of tubing, kayaking and floating is just a a few minutes' leisurely walk away.
They can also help you find a quiet spot to enjoy the scenic mountain and meadow views by the river.
In Conclusion

Villa Muniz is situated in a quiet neighborhood where it is safe for kids to walk, bike, hike and explore. The adults can enjoy some live music or dance the night away an the famous House Pasture, which is just down the road. With its perfect location and pleasant amenities, Villa Muniz is a great place to stay for your vacation.
Didn't find what you needed?