With its large sleeping capacity and even larger entertaining capacity, it is the perfect place for a wedding or other special occasion.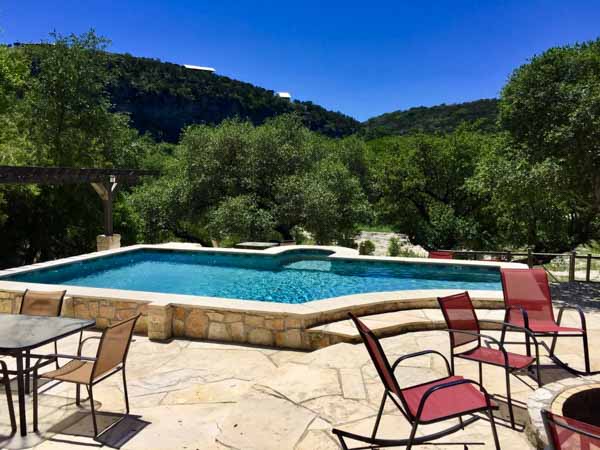 The stunning hacienda style home provides breathtaking views of both the mountain and the river from most of the 11 bedrooms as well as the poolside.

Host a legendary party with the riverside pool with custom rock seating, an outdoor fireplace and covered dining area with lots of tables and chairs. Also featured are hanging fans, poolside lounge chairs, seating areas both in the sun or sheltered under a nice pergola for shade.

There is also a second back porch with another fire pit, bbq, hot tub, a horseshoe pit, washer toss, tetherball and more.
"… less than five minutes away from the Frio River and 7 Bluff Crossing. Vacationers can enjoy a relaxing group float down the crystal-clear spring-fed waters of the Frio, with views of the scenic hills and giant cypress tress that line the banks….."
Space To Entertain
Dinner can be a festive banquet with the large kitchen equipped with a full length bar and bar stools. There's a second kitchen and pantry and refrigerator if you want to push entertaining capacities to overdrive. Two living rooms are both equipped with flatscreen TVs with satellite/cable.
There are even two indoor fire places. Stone flooring in every room is elegant and precludes that party dread of spills on carpets. Beautiful pine walls give an elegantly rustic feel, balanced against some wall-to-wall windows of the breathtaking view to provide a fantastic atmosphere.
Even More Room
There is also a washer and dryer, plenty of storage, and plenty of parking for your guests within the gates of Cypress Bend. The 11 bedrooms include 3 king beds, 2 queen beds, 7 twin beds, 4 bunk beds, 3 sofa beds, 5 full beds, and 2 other beds. Property has wifi, air conditioning and heating.


The property includes a pasture just a short drive from the main house, good for a special event set up or a live music stage.

The Frio River is mere steps away from the property and is popular with all ages for its swimming, tubing and fishing.
In Conclusion

In conclusion, NoNa'me has an unmatched capacity to host the event you've been dreaming of for years, that will have something for everyone and leave many very fond and lasting memories for everyone involved.
Didn't find what you needed?