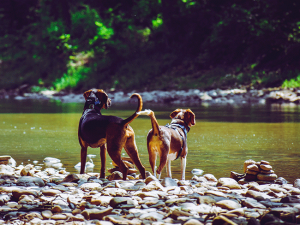 If you are a dog lover, you may be wondering if dogs are allowed on the Frio River. You are in luck because the answer is: YES – it's a public waterway. The only drawback though, is where your dog can camp based on their breed and size, if at all. In this post, we take a look at 4 of the most dog friendly campgrounds for your four legged friends that are close to the river.
While most campgrounds and cabins are pet friendly, many have restrictions on the number, breed and even the size of dog that they allow on their grounds. Other properties seem to put so many limitations on pet visitors, it would probably be best to just not bring them. Bummer!
TIP: Keep in mind that emotional support animals are not always considered service animals by every establishment. Call and check before making reservations. Knowing these and other particulars well in advance will help ensure that you and your best friend have a place to stay while you visit the river. Not knowing these details ahead of time may force you to try and make a last minute kennel reservation in town, which may be next to impossible given the size of the towns in the area and the influx of vacationers.
Garner State Park
Garner State Park is a great option because of its central location to all the fun and its abundance of camping options. The best part about your pooch staying here is, there is NO pet fee. Dogs are generally seen as a liability and that liability is usually why dogs are not allowed at some of the private campgrounds. This isn't the case at the state park. NOTE: Rules governing pets in Garner apply to all Texas state parks (with the exception of parks that have certain natural and cultural resources)
The Rules
Your dog must stay on a leash or otherwise contained in a vehicle or crate at all times. Leashes must be under 6 feet in length.
Your dog must have a chaperon, and you may never leave your dog unattended anywhere, including your camp, in the park or your car.
Although they do not go into detail about what constitutes a "dangerous" dog, noisy and/or dangerous dogs are not allowed.
You may not bring your dog into ANY state park building, which includes screened shelters, restrooms, cabins and group facilities.
As with most places, you must pick up after your pal and place waste in the trash.
Your dog is not allowed to go into any water or land near a designated swimming area. THIS IS IMPORTANT: Although they do not explain further, this could very well mean that in order to float down the river with your dog, you may have to launch into the river from a designated spot near or outside of the state park.
IMPORTANT: Your dog must be current on its rabies vaccination and you must carry proof of vaccination with you.
Failure to comply with these rules are grounds for removal of both you and your dog.
Any place that gives their pet policy it's own webpage and features a huge photo of their onsite best 4-legged friend definitely gets a spot on this list! Neal's Lodges does just that. Note that they DO add a pet fee of $25 per pet / PER STAY (not per DAY), but that's a small price to pay to make sure your pal gets to come with.
Neal's has been a local staple since the 1920's and was at one point in time designated to have the "best little swimming hole in Texas". They have scores of cabins, RV spots and tent sites for you to choose from and they also consider themselves a "1-stop shop for tubes and shuttles". They have a pricing schedule of services and rentals on their website and for a fee, they'll give you and your pooch a lift up river to one of the put-in locations.
The Rules
According to their website, rules regarding pets are as follows:
A clearly noted "PAW PRINT" icon in a property search online or in brochures means your pet is welcome!
Your pet must remain on-leash at all times when on their property.
They prefer that your pet stay IN THEIR KENNEL when in the cabin, while you are present.
Neal's seems to be pretty lax with their pet rules, but it's always best to call and confirm well before you arrive, just to make sure.
River Oaks Resort actually brands themselves on the home page of their website as "River Oaks Resort on the Frio River, a pet-friendly resort". They even have a DOG in their LOGO! I can't decide if that's as great or better than Neal's Lodges dedicated web page featuring a picture of their campground hound manning the check-in desk.
River Oaks Resort has their main office 7 miles south of Garner State Park with dozens of cabins on and a short distance from the river. Their main office features a swimming pool and splash pad. They welcome all well-behaved pets and charge a $25 dollar pet fee per pet / PER STAY (not per DAY), and they issue a tag for your pet to show that they are a registered guest of the resort.
The Rules
According to their website, rules regarding pets are as follow:
Pets need to be kept on a leash when not in the cabin or out and about on the grounds.
Owners of pets are held completely responsible of cleaning up after their pet.
Owners of pets attest that their pet has been vaccinated and does not have ticks or fleas.
Pets may not disturb other patrons or be excessively noisy.
Pets are not allowed on beds, cabin linens, or any other cabin furniture.
Do not use cabin sinks or bathtubs to bathe your pet.
Like Neal's Lodges, Crider's has some pretty lax pet policies. Although I haven't found any prominent photos or logos of dogs in any of their promo materials, I do really appreciate that they use layman's terms when talking about you picking up after your furry friend.
In existence since 1936, Crider's on the Frio has over a dozen cabins with 5 of those on the river itself. Get this… Two of their cabins actually have built-in dog kennels! If this were a top 5 post, that fact right there would shoot them straight to the top.
The Rules
While some properties are merely pet-tolerant, I would go as far as to say that Crider's is pet-inviting. Like Garner, they don't charge you a fee to bring your best four-legged friend along for a stay, they only ask the following:
Pet owners must bring plenty of blankets or towels to cover the furniture or any surface their pet may end up sitting or sleeping on.
Pet owners must pick up their pet's "poop" outside. Pet owners must ensure that their pet is not a nuisance to other guests.
Pet owners must clean up/sweep up pet hair before leaving.
If pet owners neglect to follow any of these rules, there will be an additional $100.00 fee.
Remember, the river is a public waterway that your dog is absolutely allowed to navigate with you. Finding a good place for them to camp with you is a different story though.
If your top priority is to find a campground that gives you the most flexibility for your furry family members, the list above is a great starting point to finding just the right accommodations.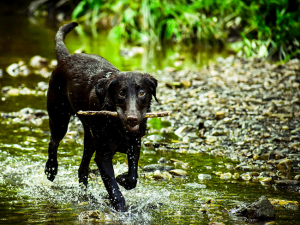 Closing Thoughts: When on the river with your dog, make sure you have the necessities to care for your dog and to restrain them if necessary. Remember that in the state of Texas, you are responsible for your dog and it's actions. It's a really good idea to keep with you a record of their vaccinations and to make sure he/she has tags stating that they are vaccinated and that they belong to you.